Week in Review: June 15th
Pro-Palestinian Content that Incites Violence Removed on Facebook and Twitter
Israeli officials in the Department of Justice believe that large amounts of pro-Palestinian content on Facebook and Twitter that call for violence are correlated to increased violent actions within Israel and Palestine. In hopes of reducing Palestinian violence, Israeli Minister of Justice Ayelet Shaked told Israeli newspaper Yedioth Ahronoth that the country has succeeded in removing around 70 percent of pro-Palestinian content that incites violence. Both Facebook and Twitter already have mechanisms that allow users to report offensive content. Facebook has a strong policy of shutting down any profile, page, or group related to a terrorist organization and removing any content celebrating terrorism. By February 2016, Twitter had suspended almost 125,000 accounts that have been flagged as terrorist related. But some wonder if the pro-Palestinian content that was removed was strictly related to the promotion of violence. The Palestine Chronicle wrote that "It is not uncommon for Israel to use social media and freedom of expression as a means of controlling viewpoints from being expressed globally."
Net Neutrality Held Up by Federal Court
Another chapter in the support of net neutrality passed this week as a three-judge panel at the United States Court of Appeals for the District of Columbia Circuit on Tuesday upheld the Federal Communications Commission's definition of broadband as a utility, and therefore subject to regulation by the FCC, including prohibiting throttling content. In 2014, news leaked that FCC Chairman Tom Wheeler was considering allowing broadband companies to discriminate online and create "pay to play" fast lines. After facing international outcry that this plan would limit the freedom of internet users, the FCC reclassified broadband as a telecommunications service and published a new set of "net neutrality" rules that "prohibit blocking, throttling, and paid prioritization." Supporters of net neutrality believe in the importance of providing an equal online playing field for alternative media sources and small businesses and argue that its absence will harm consumers, but opponents, including many major Internet and telecom service providers, argue that it violates these companies' first amendment rights. This week's decision comes after a lengthy legal fight between the two sides. Showing his appreciation of the ruling, Wheeler stated that "After a decade of debate and legal battles, today's ruling affirms the commission's ability to enforce the strongest possible internet protections — both on fixed and mobile networks — that will ensure the internet remains open, now and in the future." The court's ruling upholds net neutrality, but some broadband services aren't giving up the fight. AT&T has expressed its interest to keep up the battle and hopes to appeal the case to the Supreme Court.
Russian Hackers Look for Dirt on Donald Trump in DNC Files
Presumptive Republican nominee Donald Trump is the subject of interest in research files that Russian hacker groups have stolen from the Democratic National Commission. These research files contain content that would traditionally be used to make attack ads against the politician including past political statements and business dealings. Dmitri Alperovitch, chief technology officer of Crowdstrike, the cybersecurity firm that is investigating the breach, suspects that the hack was motivated by worldwide curiosity on how this unconventional politician might make decisions if in office. "Everyone around the world is trying to figure out, 'Who is Mr Trump?'" said Alperovitch. Crowdstrike has found evidence of two different hacking groups: one might be linked to Russia's federal security service, and the other is likely part of Russian military intelligence. Seeing that these files would be used to spread negative stories about Mr. Trump, Alperovitch says that the DNC likely isn't breaking a sweat.
Singapore's New Approach to Cybersecurity: Ban the Internet
To combat cyber attacks against government networks in Singapore, the government's Infocomm Development Authority (IDA) plans to restrict Internet access in government offices. Named the "Public Service's Internet Surfing Separation Initiative," the new plan will be implemented in full by June 2017. In the past year, the IDA has dealt with 16 cases of cyber attacks against government networks. As an example of his enthusiasm for the new policy, Prime Minister Lee Hsien Loon became the first public servant to disconnect his work computer from the Internet. Many netizens in Singapore understand the need for strong security intervention but question the necessity of the cyber disconnection for public servant work computers. Tech blogger Ashley Tan, who disagrees with the policy, stated, "Computer security is important in the modern workplace, but it should not be an excuse to revert to dumb or blind practice." Internet terminals will be installed in offices so that public servants still have a way to access the internet at work. An estimated 100,000 computers in government offices will be affected by the policy.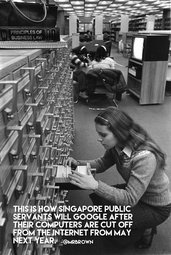 Singaporean blogger @mrbrown tweets out his dissatisfaction on the new Singaporean government initiative with a photo and caption.