Internet Monitor adds new data from Change.org to dashboard
Internet Monitor is delighted to partner with Change.org, the world's largest empowerment platform, on a new data visualization for the Internet Monitor dashboard, a freely accessible tool that aims to improve information for policymakers, researchers, advocates, and user communities working to shape the future of the Internet by helping them understand trends in Internet health and activity through data analysis and visualization.
More than 125 million users worldwide are leveraging Change.org's platform to start roughly 1000 petitions each week on a wide range of issues. The new Change.org widget in the Internet Monitor dashboard displays a live feed of petition signatures from Change.org's impact map, showing in real time where users are taking action to create social change.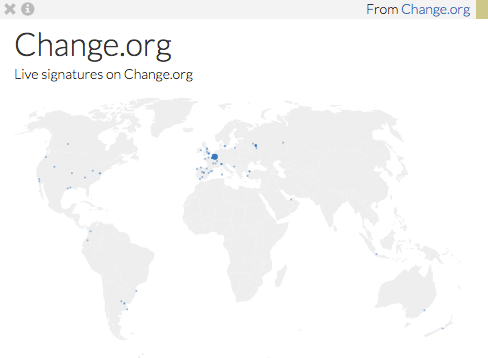 The Change.org impact map joins a growing collection of data visualization widgets from a broad range of partners, including Akamai, Global Voices, the International Telecommunication Union, Kaspersky Labs, and others that show information, much in real-time, about Internet access and infrastructure, online content controls and digital activity. Additional widgets we are adding this week include visualizations of global mobile data from GSMA Intelligence. Users can explore, create, customize, and share collections of these visualizations on the Internet Monitor dashboard.
About Internet Monitor
Internet Monitor is a research project based at Harvard University's Berkman Center for Internet & Society. Internet Monitor's aim is to evaluate, describe, and summarize the means, mechanisms, and extent of Internet content controls and Internet activity around the world. The project helps researchers, advocates, policymakers, and user communities understand trends in Internet health and activity through research, analysis, and data visualization. More information can be found at https://thenetmonitor.org.
About Change.org
Change.org is the world's largest social change platform with over 125 million users in 196 countries. Every day, people around the world use our tools to transform their communities – locally, nationally and globally. Nearly every hour, petitions on Change.org are successful in changing local and national laws, altering corporate practices, and upholding individual rights. Change.org is a certified B-corporation, a new class of companies dedicated to positive impact. Investors include Bill Gates, Richard Branson, Reid Hoffman, and the Omidyar Network, started by eBay founder Pierre Omidyar.
For more information, visit http://www.change.org.
Contact
info@thenetmonitor.org