As war in Gaza draws on, Israel is hit by a barrage of cyber attacks
Shortly after a 72-hour ceasefire was declared on August 1, a Hamas attack killed two Israeli soldiers. A third – a relative of Israel's defense minister, and coverage of whom prompted a warning to The New York Times by Israeli censors – was initially feared captured, though it was later confirmed that he died in the initial attack. Within two hours, the ceasefire crumbled.
In the hours following that, distributed denial-of-service (DDoS) attacks against Israel began a precipitous rise: by August 3, they had reached 29 Gbps, more than twice the size of any attack on Israel in the month of June and the greatest intensity since the war in Gaza began.
Both Israel and Palestine have been the subject of a number of large-scale DDoS attacks since the start of the conflict.
The Digital Attack Map shows an unusually high volume of DDoS attacks directed at Israel and Palestine at various points in the last month. For Israel, the August 3 attack was preempted by another of similar intensity on July 22. Palestinian networks have also been under siege.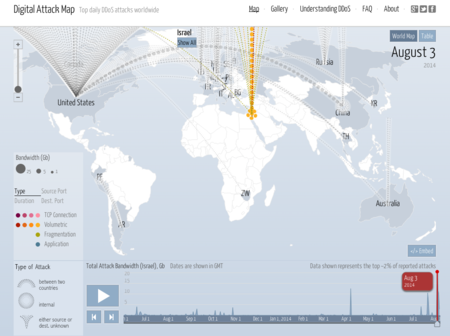 DDoS attacks on Israel on August 3, 2014, via the Digital Attack Map.
A report released Tuesday by Arbor Networks highlights a 14-fold increase in the number of DDoS attacks initiated against Israel over the month of July.
Israel's internal security service, the Shin Bet, suggested that the attacks, many of which originated in Arab states, were aimed at overloading the Israeli Internet as a whole. In late July, the attacks succeeded in rendering the ISP Netvision unavailable for several hours. Netvision controls about a third of the ISP market in Israel.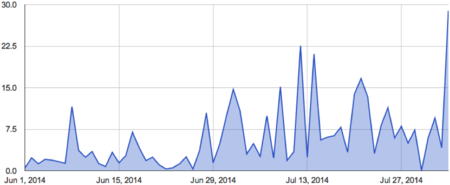 DDoS attacks on Israel by Gbps, via Arbor Networks.
Experts have suggested that while Hamas is responsible for many of the attacks, others may have been initiated by individuals or "script kiddies" trying to attract recognition for their obstructive abilities. Others are the work of hacker collectives like Anonymous.
Anonymous pledged action against Israel last month under the banner #OpSaveGaza. Anonymous has made similar vows before: in 2012, after Israel conducted a series of aerial strikes on Gaza, Anonymous retaliated with a wave of cyber attacks. "As a collective 'Anonymous' does not hate Israel," an Anonymous spokesman told Mother Jones last month, "it hates that Israel's government is committing genocide & slaughtering unarmed people in Gaza to obtain more land at the border." Anonymous has claimed credit for taking down several Israeli government websites over the last two weeks, including that of the Mossad spy agency.
On July 25, Anonymous member Tayeb Abu Shehada, 22, was killed while protesting in the West Bank. He was wearing a Guy Fawkes mask, the group's iconic insignia, at the time of his death.
In mid-July, another hacker group seized control of pizza chain Domino's Facebook page, using it to broadcast threats against Israel.