New Internet Monitor Report: "The Tightening Web of Russian Internet Regulation"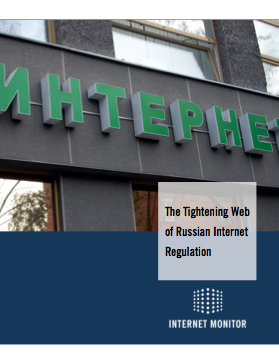 Internet Monitor is delighted to announce the publication of "The Tightening Web of Russian Internet Regulation," the fifth in a series of special reports that focus on key events and new developments in Internet controls and online activity.
The report, authored by Andrey Tselikov, tracks the recent growth of Russian legislation targeted at increasing restrictions on Internet users:
Over the past two years, systematic Internet regulation has increased more in Russia than anywhere else in the world. A series of progressively more restrictive legislative developments between the summer of 2012 and the summer of 2014 have increased the power of the Russian Prosecutor General's Office and federal agency Roskomnadzor to block or take down websites for a wide range of alleged infractions. New legislation has also mandated the registration of bloggers with the federal government and greatly increased Russian law enforcement access to user data, among other changes. This paper examines this growing web of regulations and explores how Russian Internet users and freedom of information advocates are responding through online and offline protests, circumvention, and a range of other tactics.
The full paper is available for download at SSRN: The Tightening Web of Russian Internet Regulation
About Internet Monitor
Internet Monitor, based at the Berkman Center for Internet & Society, is a research project to evaluate, describe, and summarize the means, mechanisms, and extent of Internet content controls and Internet activity around the world. The project compiles and curates data from multiple sources, including primary data collected by the Berkman Center and our partners, as well as relevant secondary data. The Internet Monitor platform is a freely available online fact base that gives policy makers, digital activists, researchers, and user communities an authoritative, independent, and multi-faceted set of quantitative data on the state of the global Internet. Internet Monitor also provides expert analysis on the state of the global Internet via our special report series and our annual reports on notable events and trends in the digital space.
Contact
info@thenetmonitor.org