Moroccan YouTube Rapper El Haqed Arrested Again on Dubious Charges
In 2011, rapper El Haqed's "Baraka Min Elskate," or "Stop the Silence," became a rallying cry for Moroccan youth. The nation's youth are one of the most vulnerable populations in the kingdom, which since 1999 has been ruled by Mohammed VI. The rapper himself hails from a poor neighborhood in Casablanca, where many of the neighborhood's inhabitants fall into inescapable cycles of poverty and drug use. In his song, El Haqed rapped about the country's economic disparities and human rights abuses, inspiring youth to mobilize in favor of political change.
El Haqed was one of many who spearheaded the February 20th movement, an activist coalition calling for democratic reforms against Mohamed VI's regime. Later that year, in July, continued and persistent protests drove the Moroccan government to draft a new constitution to appease these protestors.
Morocco's political and social realities have been far from rosy since the passage of that draft constitution, which critics claim is just dress-up, having little application to reality. El Haqed has continued to express his opposition to Moroccan political authority through his art, becoming something of a cultural sensation within the country.
Moroccan authorities have taken issue with his popularity, and, since 2011, El Haqed has found himself in and out of prison on varied charges, many of which his supporters suspect relate to his art. He raps with precision and urgency, leveling fiery critiques against the social injustices present in the wake of the Moroccan Spring.
Baraka Min Elskate, via YouTube.
Since he began rapping, El Haqed – "the enraged" – has been arrested three times. In September 2011, he was arrested due to his purported assault of a pro-regime protester, spending four months in prison. A year later, he was charged for insulting public officials in a song in which he raps against the image of a dog-headed police officer; he spent a year in prison. In February 2014, Moroccan authorities blocked a press conference intended to advertise his new album.
Now, on July 1, the Casablanca Court of First Instance sentenced El Haqed to four months in prison, also subjecting him to fines for his crimes. His crimes are nominally unrelated to his artistry – he's been accused of scalping tickets to a soccer match, being drunk in public, and assaulting four police officers. Human Rights Watch reported extensively on the grossly mismanaged trial, in which judges ignored evidence that strengthened El Haqed's case against his accusers.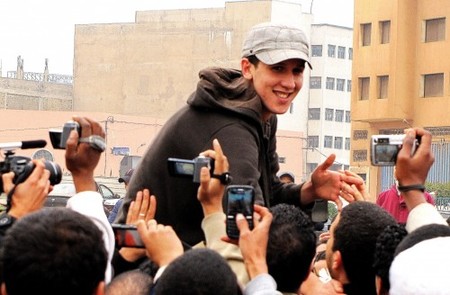 El Haqed, via Wikimedia Commons.
El Haqed has continually maintained that the content of his police interrogations has focused on his artistic output, not the formal charges leveled against him, raising fears that his continual arrests are thinly-veiled attempts to silence his work. Though Freedom House notes that such social media and video-sharing sites as YouTube have served as a watchdog in the wake of 2011's reforms, the long and storied history of media censorship in Morocco has forced netizens to self-censor or face the threat of prosecution. The most analogous case to El Haqed's in the country is that of Abdelsamad Haydour, a young activist who was recently sentenced to a hefty three years in prison after a YouTube video surfaced of him insulting King Mohammed. Though El Haqed's continual arrests have enlivened netizens, who have begun the #FreeL7a9ed hashtag in support of his release, he continues to fall into the trap of arrest due to his politically-provocative work. The realities for netizens like El Haqed in Morocco underline, to media activists, that the Moroccan Spring's constitutional reforms may have been filled with false promises.