Is Cambodia's latest defamation ruling suffocating online expression?
Throughout his career, British journalist Rupert Winchester has written for such varied publications as BBC, the South China Morning Post, and CNN Travel. His career has seen him travel throughout Asia, and he's dabbled in both fiction and non-fiction; just years ago, he edited a book about the history of Kolkata that he crafted from the memoirs of his father, respected author Simon Winchester. Most recently, he's served as Property Editor of the Phnom Penh Post , Cambodia's oldest daily newspaper.
Winchester has been living in Cambodia since late 2011, when he arrived in the country to pen his latest novel. He's blogged about his time in Phnom Penh since February 2012. His blog, The Mighty Penh, often contains more expansive and long-form versions of the articles he writes for the Post.
Blogging is a popular online sport in Cambodia – the country, which has fledgling Internet access, has developed something of a nascent blogging culture in recent years. Winchester's blogging, however, has made him the unlikely target of a thorny defamation ruling in Cambodia. On July 24 of this year, the Phnom Penh Municipal Court forced Winchester to pay $25,000 in damages to Etienne Chevenier, a property developer for international architecture firm CityStar, and fined him an additional $2,000.
In June of last year, Winchester penned a post in which he alleged that Chenevier planned to destroy a colonial-era building and construct a lavish condominium in its place. The post, in which Winchester claimed that Phnom Penh's heritage was "under threat," went on to detail how Chenevier, a French national with Cambodian citizenship, nefariously sought to dismantle "one of Phnom Penh's most beautiful French colonial villas" built in the early 1900s. Winchester linked Chenevier's plans to an alarming trend of colonial-era buildings being destroyed throughout Southeast Asia.
Within days of the article's publication, Chenevier sued Winchester under Article 305 of Cambodia's Criminal Code. Defamation, under Article 305, is a serious offense that carries a fine ranging from $25 to $2,500. Three days after Chevenier filed the suit, Winchester, in a defensive act of self-censorship, removed the post from his blog. The story was also retracted from the Phnom Penh Post's website, though it's still accessible through web archives.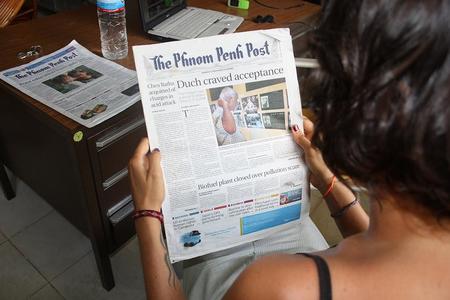 The Phnom Penh Post, via Wikimedia Commons.
Stating his case, Chenevier argued that his company had no desire to knock down this historical building, despite the fact that Winchester's article quoted Chenevier saying just that. Winchester followed Chenevier's quote with testimonials from such organizations as UNESCO and Heritage Watch, which cited the frequency with which vestiges of Cambodia's colonial past were being erased by power-hungry firms. It's this precise implication – that Chevenier deserved to be lumped in with these greedy folk – that didn't sit well with Chenevier. To Chevenier, Winchester's false remarks were infused with a tinge of malice. He had no other choice but to sue.
Freedom House has classified Cambodia's Internet as "partly free," citing some of the country's offenses, such as the blockage of three "anti-government" blogs hosted overseas in 2011. (Curiously, the Phnom Penh Post was instrumental in disseminating the reasons for these blocks when it leaked emails from government officials, revealing the motivation behind such blockages.) It's been a common practice for authorities in the country to level defamation charges against traditional print media journalists, with Human Rights Watch documenting 12 detentions on those grounds between December 2010 and 2011. On a scant few occasions, these defamation charges have been leveled against netizens– in January 2013, schoolteacher Phel Phearun was accused of defaming the country's police forces after he wrote a Facebook post about the police impounding his bike.
Domestic and international media freedom organizations alike, ranging from the Overseas Press Club of Cambodia to the Committee to Protect Journalists, have criticized the Municipal Court's decision passionately. They've argued that the case raises questions about the efficacy of such stringent defamation rulings, and, more generally, whether rulings of this ilk are setting a risky precedent for free expression in the country. Earlier this year, the country began mulling over a Draft Cybercrime Law that would criminalize online speech that "hinders the sovereignty and integrity of the Kingdom of Cambodia," vague definitions that media freedom workers fear could be interpreted with dangerous liberty.