Internet Monitor partners with Ranking Digital Rights
Crossposted from the Ranking Digital Rights blog
We are excited to announce that data from the Ranking Digital Rights Corporate Accountability Index is now available in new ways and to new audiences through the Berkman Center's Internet Monitor Dashboard.
The Internet Monitor Dashboard helps policymakers, researchers, advocates, and user communities understand trends in the Internet's "health" and activity through data analysis and visualization. The Dashboard collects data on issues of Internet access & infrastructure, online content controls, and digital activity.
The inclusion of RDR's Corporate Accountability Index, focusing on companies' respect for freedom of expression and privacy rights, brings new insights about the private sector's impact on the Internet to other data already available on the platform. One of the many great features of the Dashboard is that users can freely customize a personal board, adding widgets with other data types, changing sorting orders, creating data visualizations and embedding them on other sites.
The Dashboard also enables us to visualize the index data in new ways: by comparing services side-to-side. This allows consumers, researchers, and everyone else to compare a specific service, such as a social network or e-mail service, with competitors that RDR has ranked.
To help people to quickly grasp the Index findings, we have prepared a curated board that features a range of RDR data sets in one overview.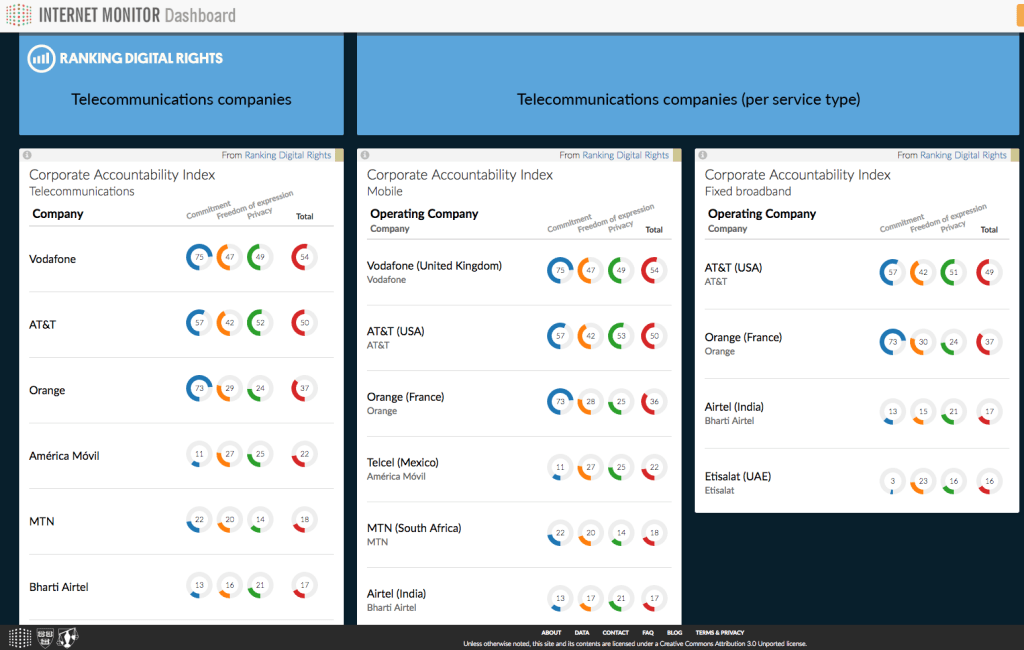 The curated RDR board can be found here: https://dashboard.thenetmonitor.org/dashboards/6aNiYLZNBnDQ79Edw
In addition to the data as it is featured on the RDR website and the Internet Monitor Dashboard, the raw index data is is freely available for everyone to access and use. We encourage others to use the data in other innovative ways. Stay tuned for more updates on this.
If you would like to learn more about how to use the Dashboard, have a look at this brief and very helpful tutorial: